Blue skies, no liquid sunshine pouring down in Oakridge Oregon today!  It was a pleasant 42 degrees in the sun, so I headed out for what will be the last image making session of 2016.  
I drove down a muddy service "path" and setup my easel in this spot, a new view of TV Butte.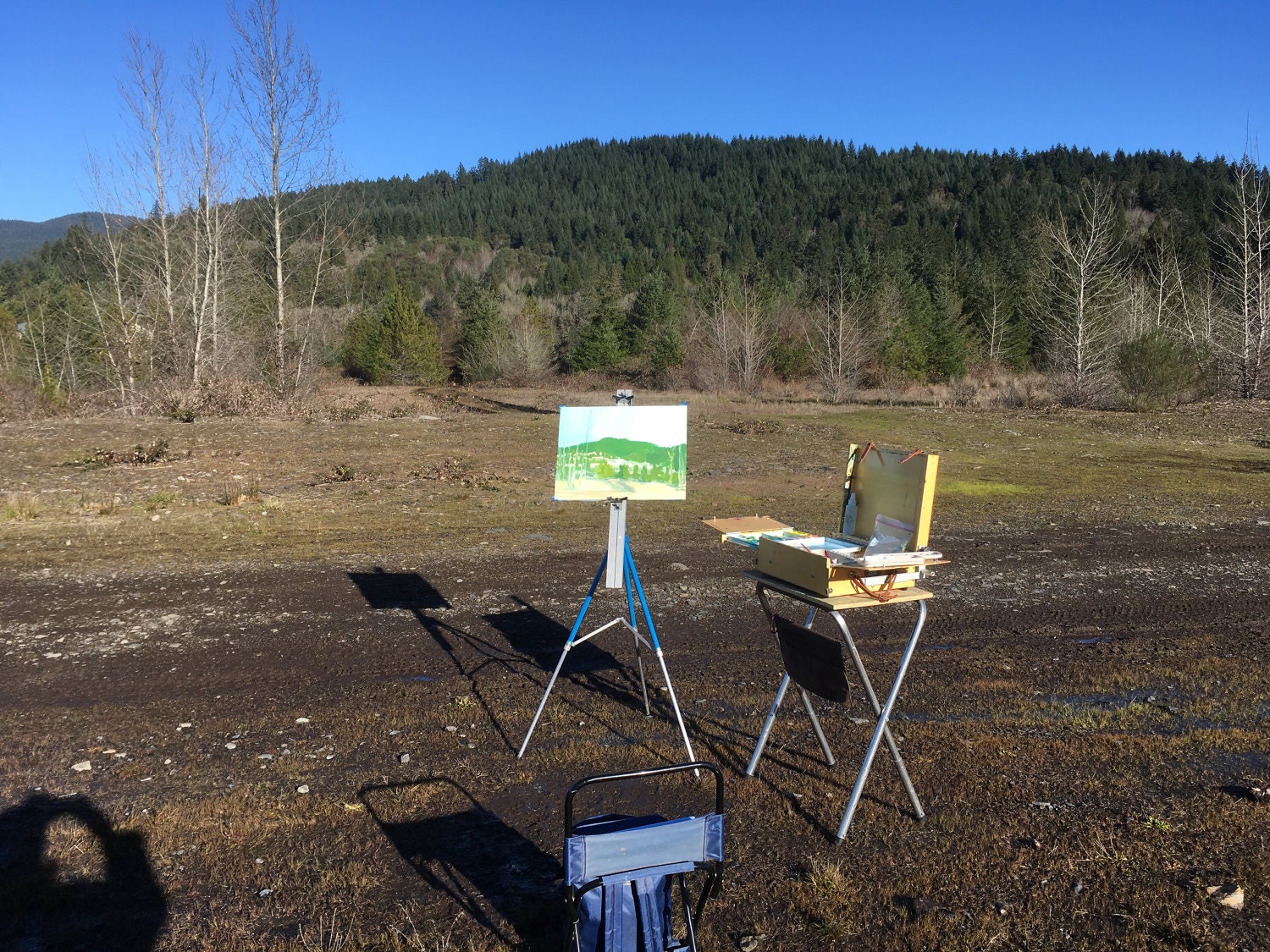 I'd no more than got my paints moistened when the gunfire began.  (The gun club is about 1/3 mile from where I was painting.)  This spoiled what could have been a nice time for the dog, who is very frightened of loud noises.  So I put him in the back of my RAV 4 -- where he would feel secure, and turned to the work at hand.
My goals for this session were:  1. Have FUN!  2. Try new things. 3. Keep the tone light, I have too many paintings that are in the mid to low tone ranges, I want to do something different. 4. Try gouache paints on Ampersand Aqua Bord. 5. Try to keep relationships in size and space accurate enough that they "read" well.
While I did not finish, it was a very relaxing session, and I learned a lot relative to my goals!  I am going to save this one until conditions are similar enough to go back and finish on site.  That likely will not happen for over a week, as snow and extreme (for Oregon) cold are in the forecast for us beginning on New Year's Day!  I also learned to NOT set up my easel in a mud puddle.  I don't mind it, but the dog likes to lie by my side when he isn't exploring things, and he hates lying in mud as much as I hate him tracking it into the house!!!
The light was beginning to fade to more of an evening with shadows presentation, so I stopped rather than "chase" it when the shadow patterns are moving so quickly.  I took the dog and we walked, phone in hand, in the bright winter sunlight.  I could not have been happier!
Two very short videos of this spectacular session follow.  It was a rare day when things came together and I stayed present and ecstatic in each moment.
Then, turning back to walk to the car, I wished the day would not end.
What a way to close a year of so much grief and tumult, 2016.